Community Food Source and Sustainability
Wealth of Natural and Cultural resources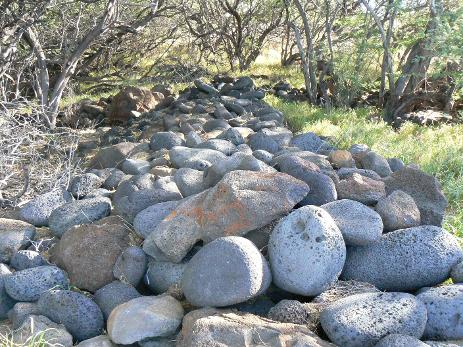 NORTH KOHALA WAS KEY TO HAWAII'S RISE AS A WORLD POWER WHEN OTHER CULTURES WERE OVERRUN BY WESTERN EXPANSION
Evidence of how Kamehameha the Great succeeded still lies buried in the ground of North Kohala. Previous studies of coastal village complexes at Lapakahi and Mahukona 20 and 30 years ago did not approach the sophistication of the science now available to study these key areas.
NORTH KOHALA HAS THE CLUES THAT WILL HELP MODERN ORGANIC AGRICULTURE TO UNDERSTAND THE RELATIONSHIPS BETWEEN THE ELEMENTS THAT PRODUCE FOOD. - FRED CACHOLA, KAMEHAMEHA SCHOLAR AND RECIPIENT OF THE PRINCESS BERNICE PAUAHI BISHOP AWARD
Many heiau (temples) are along the coast, including the Ala Moana heiau at Mauhukona, the last navigational heiau in Hawaii not surrounded by development and Hale o Ka'ili, the first heiau dedicated as kahu (caretaker) for the war god Kuka'ilimoku by Kamehameha the Great.
The pristine and scenic coastline with endemic and endangered species, including the Hawaiian monk seal and plants with health and healing properties used in la'au lapa'au, traditional Hawaiian herbal medicine.